Twitter's logo has undergone a significant change, As it has been replaced with an "X" symbol instead of the familiar blue bird. This update comes after the platform was acquired by a billionaire for a staggering $44 billion last year.
Elon Musk, the owner of Twitter, teased the logo change in a brief video showing a flickering "X." During a Twitter Spaces audio chat, he confirmed the logo change when asked, responding with a simple "Yes." He humorously mentioned that they would remove the old Twitter logo from their building using blow torches.
Lately, Twitter has been encouraging users to subscribe to its premium blue service by restricting some popular features behind a paywall. With this new branding strategy, the company may further entice users to join the subscription model. Musk's Twitter is facing tough competition from Meta's Thread, which has attracted millions of users on a Twitter-like platform.
Currently, typing x.com in the web browser redirects to twitter.com, indicating an imminent official confirmation of the rebranding of the world's largest micro-blogging platform.
Twitter's CEO, Linda Yaccarino, also confirmed the change by tweeting the design and writing: "X is here! Let's do this." She even posted a picture of the logo projected on the company's offices in San Francisco.
It's an exceptionally rare thing – in life or in business – that you get a second chance to make another big impression. Twitter made one massive impression and changed the way we communicate. Now, X will go further, transforming the global town square.
— Linda Yaccarino (@lindayacc) July 23, 2023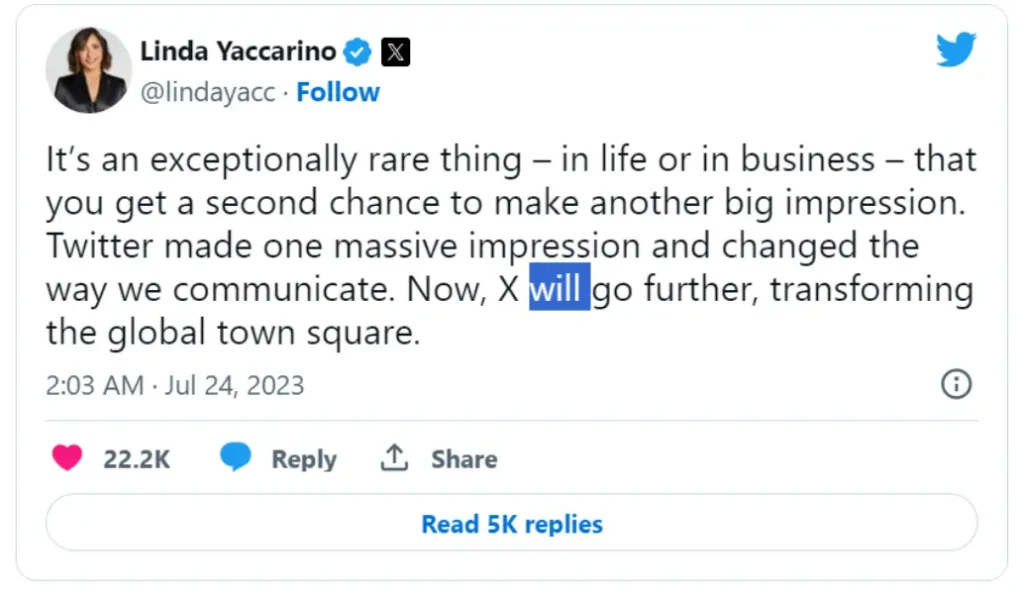 Additionally, Elon Musk is contemplating changing the default platform color from white to black.
This isn't the first time Musk has toyed with Twitter's branding. In April 2023, the iconic blue bird logo was briefly replaced with the logo of Dogecoin, a cryptocurrency, but it was later reverted to the original logo within a few day's.